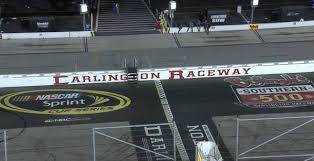 A first ever "throwback" race is in the can.
Another in a long list of races that Nascar just can't help itself to get out of the way and let the race play out.
It was an almost  perfect evening. (Last Saturday at Darlington.) 40% of all Hall of Fame dignitaries on hand; Nostalgiac paint schemes aplenty; the dramas of potential weather influence and good ol' tire concerns; and the Southern 500 on Labor Day weekend.
The best car all night and the 2nd best for the last 1/4 of the race were shaping up to put on a thrilling finish. There was the ebb and flow of the 4 closing in, and then the 2 pulling away. It takes time for battles like these to develop and bring natural excitement to a race. I refer to it as continuity. Nascar hates continuity. Nascar loves every race to end with an "immaculate reception". Harvick was making a final charge with a little more than 10 laps to go and was closing. Just enough time to make the last lap reminiscent of Craven/Busch or Gordon/Burton. But a 60 lap run to end a race is not in Nascar's playbook.
As the announcers said earlier in the event, someone is hitting the wall almost every lap. These are instances that Nascar can legitimately  get away with throwing the yellow whenever they want. But they must have decided Harvick wasn't going to catch Bad Brad. Somehow tire smoke from a non-spinning car who never hit anything was a good enough excuse to end the show with the flair Nascar tries continually to manufacture. Thanks again.
A special nod to Target. Yeah, the "throwback" schemes were great, but it seems Target was the only sponsor to give up the major portion of the car for the 42 Mello Yello. Very cool.
By Gary Erdakos