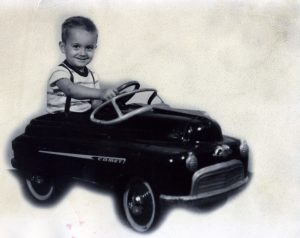 In 1993, I sold my business, packed up whatever would fit in my 3000GT (not much), and headed to NASCAR territory – Charlotte. That's where Benny Parsons via ESPN told me I had to be if I wanted to go racing. I was way too old to begin a driving career, and, as my high school guidance counselor said , "(I) could do anything I wanted except be a mechanic".
One day watching a race, I noticed a big yellow vehicle in the infield. I had never heard of the company, but the next day I called for an interview, and shortly thereafter I had the toughest, dirtiest, stinkingest job I've ever had. And it was fantastic. Not only did I learn to negotiate the labyrinth that the six county area calls "roads", the race teams were my customers. I respectfully gave them great service and felt that I played a small part in the building of the cars. I also had weekends off enabling me to OD on TV and radio race activity.
After 8 years it became apparent that it was a younger man's job. I subsequently became a motorcoach driver and tour guide while also designing race venue tours. I knew where everything race related was and how to efficiently get from point A to B, C, D…  – no minor achievement on the Charlotte area roads.
Twenty-eight years ago, when I reacquainted myself with Nascar, I dove in deep. Thanks to TNN, the Winston Cup Scene, and Greg Fielden's books, I became somewhat of an amateur historian. I read every word of Greg's 40 Years of Stock Car Racing, including what I call the Box Scores of every race from 1949 through 1989. My wife was required (urged) to learn the drivers, sponsors, owners and crew chiefs. I'm sure she did it with great pleasure.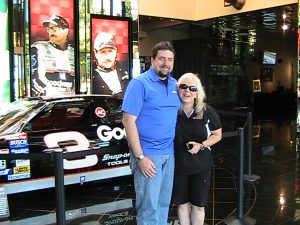 I've been conducting my own tours for over 20 years, the last 8 years professionally. Actually, I describe it as "It's not my tour – it's your tour". Most other tours put you on a bus or large van and take you on their tour for a prescribed amount of time. They are all good tours, but there are some drawbacks. My tour takes you where you want to go with the companions of your choosing. It has complete flexibility and lasts as long as you can stand it. If your party consists of more than 2 people, you also save money. We can also see some things I guarantee you'll not see on other tours.